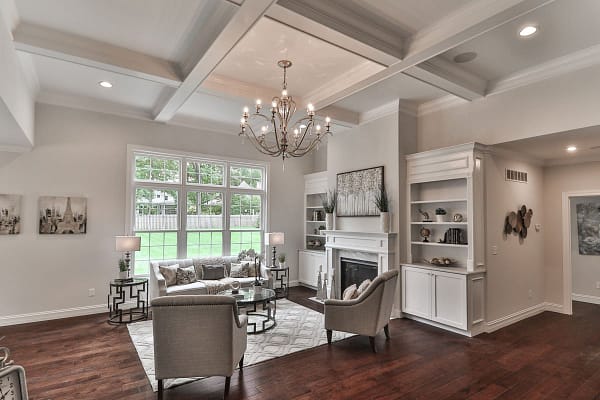 One of the things I enjoy most about being a Certified Staging Professional is the opportunity to apply my skills and training to a wide variety of homes. Whether it's a loft condominium, a starter home, a suburban family home, or a luxury mansion, the same basic principles of good staging apply…but that doesn't mean a cookie-cutter approach can be applied to every home! The devil is in the details, as the saying goes, and at Staging That Sells we believe it's our focused attention to detail that attracts prospective buyers to the houses we stage, and sparks the emotional connection that makes them say, "I want to live here!"
Recently, Manlin Development Group brought us in to stage their most recent custom home – a gorgeous six-bedroom, five bathroom home on a half-acre lot in Kirkwood, MO – we were ecstatic! Manlin shares our commitment to high quality and is well known for their attention to detail. Nowhere is that more evident than in this incredible 5,000 square foot home, and as Certified Staging Professionals we knew that our job was to showcase — not overshadow — the builder's high-quality appointments.
We chose elegant but muted neutrals and metallics to highlight the stunning woodwork, quartz counters, stainless steel appliances and high-end fixtures throughout each room, including the living room, kitchen, and master bedroom. Plush area rugs help define comfortable seating and dining areas while also highlighting the wide, dark stain wood floors. All furniture was meticulously placed to show off the flow, ample floor space, and the stunning windows that allow views to the beautifully landscaped yard. What more could you ask for?
In asking ourselves the question above, we realized: even luxury properties will be someone's "home," so we felt it was important to make sure the staging painted a picture of warmth and comfort, too.  For example, the breakfast room styling glides directly to a three-season patio staged to show its potential as a place of quiet reflection with your morning coffee, or a place to wind down after a busy day of work, surrounded by the sights and sounds of nature. The master bedroom suite was likewise staged as a plush, comfortable place to retreat from the world.
To learn more about this property and see additional photos, check out the feature in STL Mag.
Selling your home? We can help transform your property into the home of a buyer's dreams – contact us today!