Get to know Amy! She's not just a multi-talented Certified Staging Professional. Amy Fischer is a wife; mom to Emily, Abigail, and Adam; and proud grandma to Hazel and Walter. She's also a Dog-mom to Rigby, a Maltese mix who really runs the show at her house.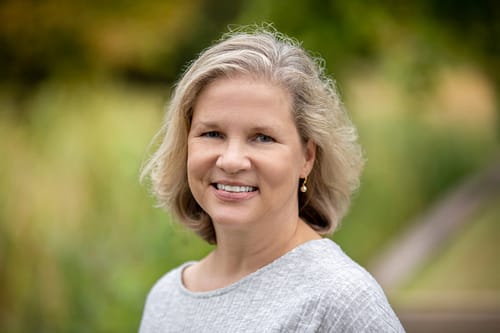 Tell us a little about yourself and your background.
I grew up in Webster Groves and as a kid I was always rearranging my room. When my mom remarried, we moved to a very modern house in Oakland. She and her husband owned an antiques business, Blackburn Antiques, so our house was filled with antiques which were changed frequently. I loved the juxtaposition of the modern/classic and casual/elegant, and to this day I love throwing in an unexpected element of art.
By the time I was in my 20s I had moved several times. Whether it was a room in my mom's house or an apartment or my own home, every new location was an opportunity to decorate and express my style.
What professional path brought you to where you are today?
I worked as a Registered Nurse for more than 20 years, specializing in the operating room. I often joked that people are so much nicer under general anesthesia, but I truly did love helping and being able to comfort people when they were in pain or scared. But throughout my years in nursing, my creative side simply wasn't being fed. I learned to reupholster furniture and restore and renovate furniture and décor items, but there's only so much you can do in your own home.
I think it was Candice Olson's HGTV show "Divine Design" that planted the seed for me. Figuring out creative ways to transform "challenging" rooms and properties was very appealing to me. I researched options and signed up for Becky Harmon's five-day training program at Transformations Staging & Redesign School in Jacksonville, Florida. It was incredibly eye-opening!  I learned that staging is SO much more than decorating a room. It's a holistic approach, really. You have to consider everything — the architecture, finishes and fixtures, room flows, and the psychological aspects of the potential buyers.
How did you become familiar with Staging That Sells?
After earning my Certification I joined two professional associations, IAHSP and RESA, and I started a company called Nest Staging. I started acquiring furniture and décor items (it didn't take me long to fill a 10×40 storage unit!) and met with Realtors to promote my business. I met Leslie Eicher at a local RESA meeting, and we spent a little more time getting to know each other at the national RESA Convention in Las Vegas.  A few months later Leslie called me. She had just signed a large vacant staging project in Warson Woods and asked if I would be willing to help her. We've been working together ever since on projects throughout St. Louis and beyond.
What are some of your favorite moments of being a staging professional?
We've had several calls to stage vacant houses that sat on the market with no offers, and then sold to the first prospective buyer who saw it after we staged it. Those jobs are very rewarding and reaffirming that our staging definitely helps buyers envision a property as their future home.
I also recall a few houses that I thought would never sell because they were pretty run down or had small, choppy rooms. We put a great deal of thought into how to transform them, and without fail they sold quickly and often for full asking price (occasionally more).
What I love most about our approach is how important each and every job is to us. Whether it's a million dollar mansion or a 900 square-foot starter home, we put the same amount of effort into getting it right. I'm proud to be part of this team.