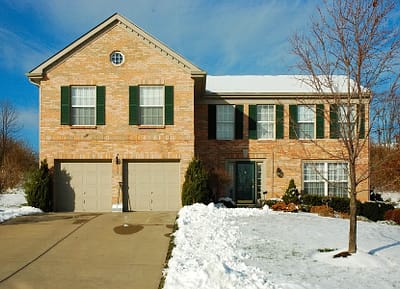 If you ask around about the best time to list a home for sale, you're likely to hear that you should avoid selling your house in the winter (December, January, and February). After all, in parts of the country like St. Louis, winter weather means leafless trees, browning grass and a lack of blooms, all of which decrease a property's curb appeal. Plus, few parents want to move their kids to another school halfway through the academic year. And let's face it, a lot of people just don't want to house hunt, let alone move, in the cold!
Conventional wisdom holds that the housing market is most active during the spring, stays pretty active during the summer, starts to peter out in the fall, and is almost dead in the winter. Data gathered by St. Louis REALTORS® for the city of St. Louis and St. Louis County supports this trend:
In our area, single family homes sold for a median price of $164,767 in the fall of 2016, and dipped to an average $155,000 in the winter. Active listings dropped from an average of about 6,905 to 5,428 from fall to winter, and the length of time that houses stayed on the market rose from approximately 110 days, on average, in the fall to about 119 days in the winter.
By contrast, home prices began to recover right off the bat in March 2017, with the median selling price  starting at $159,900 (up almost $5,000 from the winter average) and rising to a summer average of $184,267. Active listings rose to 6,250 in March and continued that upward trajectory to reach a summer average of 7,001 listings. The length of time that houses stayed on the market dropped significantly from the winter average to 92 days in March and hovered around that number for the summer.
Using Inventory to Your Benefit
So, the question remains, are there any advantages to listing a house in the winter? One thing to consider is that while many house hunters do sit out the cold months, those who brave the weather tend to have very pressing reasons for needing to make a purchase, for example, relocating to the area for work.
However, those motivated buyers may not find much inventory on the market since most home sellers will stick to conventional wisdom and avoid the winter months. That situation puts selling your house in the winter at an advantage. Hermann London, a St. Louis area real estate agency, points out that when more homes are up for sale in the spring and summer, it becomes a buyer's market where "buyers can be more selective, and sellers typically can't be as aggressive in negotiation." If you're a winter seller, you are a rarity and even normally hard-to-please buyers are likely to see your property in a favorable light, especially if it is staged and showcased by a Certified Staging Professional.
Real estate website Trulia noted two other factors that can lead to positive winter sales: "Motivated buyers might also submit a price that's too good to refuse. …[and] a fear of rising mortgage rates — rates tend to go up in the spring — might cause a buyer to be more willing to pay a higher price upfront. Whatever the reason, it's a happy discovery for many people who finalize a home sale when the weather outside is frightful."
Of course, circumstances change often in the housing market and those changes can be considerable. Knowing this, are there any indications that area listings are a good idea this winter? The St. Louis area has been experiencing a tight housing market with buyers scrambling to lock down a deal. That tight market should be good news for selling your house in the winter. . If there's been a shortage of houses all year, then it's likely that people will still be looking during the winter months.
Location and First Impressions Are Still Key in the Real Estate Off Season
A tight housing market does not automatically mean that your list price can remain at warm-weather levels. In September, Dennis Norman of St. Louis Real Estate News, noted that home prices in the St Louis real estate market were beginning their usual seasonal dip and would not recover until spring. But it should be noted that he said there were exceptions to this seasonal drop: one was St. Louis County, which he said was still a "hot seller's market."
While those assertions were made months ago, it's possible that more people than usual will continue looking for a home through this winter. And that may mean list pricings in those areas may not have to go as low as they did in previous years. For September and October of this year, the median selling price was $174,625 … a significant increase over last fall!
But whether or not you can list high, obtain multiple offers, or even spark a bidding war will depend on the level of demand in your particular area AND how you present the property. Today's buyers are demanding homes that won't require a great deal of work, indeed, a Maritz Research poll showed that 63 percent of buyers are willing to pay more for move-in ready homes. Certified Staging Professionals are trained to identify what (if any) updates or upgrades should be made to help make the property appeal to today's demanding home-buyers, and to help present it in a way that helps home buyers make an immediate emotional connection with the home. A well-staged home creates more buyer interest, and with more interest comes more offers, which often results in above-asking price offers…even during colder months!
Norman points out that when selling your house in the winter, the longer winter sellers wait to lower their price to a level that will attract buyers, the lower they will most likely have to go. Trulia echoes the concept of pricing a property just right in order to make a sale during the winter: "If a property price reflects both the current market and the surrounding neighborhood, that home is more likely to go under agreement at a favorable price."
Keep these seasonal considerations in mind, and you can be the maverick who begins the year out in front of all the sellers sticking to conventional wisdom.