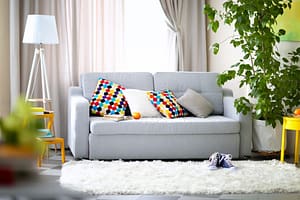 Whether you're selling a vacant home or an occupied home, there's a lot more to it than simply placing a "for sale" sign in your yard and hoping for the best! Even in a particularly hot seller's market, as we've seen in St. Louis and cities around the country, savyy sellers know that offers might be forthcoming —but they'll likely be way below asking price  To maximize the dollar amount of offers and sell a property faster, you need to help potential buyers fall in love with it at first sight. The way to do this is through professional home staging, one of the most popular and proven methods of increasing property value.
How Home Staging Works
So what do home stagers do?
Certified home stagers are trained professionals who provide personalized, room-by-room consulting for home sellers and realtors, instructing them on what needs to be done to create the best first impression possible for their prospective buyers. Stagers understand the local Real Estate market, the psychology of buyers, and design/lifestyle trends. They objectively identify a home's strengths and weaknesses, remove distractions, highlight its best features and enhance the space being presented. The goal of home staging is to present an idealized version of a home that generates more offers from buyers, and for higher amounts.
I will almost always tell a prospective client that home staging is the process of converting their personalized living space into a home that the largest number of prospective buyers could imagine themselves living in. If you think of a house as a professional actor in Hollywood getting ready for the Oscars (where they are going to be on display for many to see!) chances are, they've got a personalized team advising them on their attire, makeup, and which way to present themselves to the camera. Staging is very similar – you want to showcase your house in the best light possible, making it stand above the rest of your competitors in terms of presentation and arrangement.
Home staging is often misunderstood as decluttering or decorating, but in fact, staging is designed to help you look far more deeply at how your house and the elements inside it are presented. These include:
Repairing or replacing worn or outdated elements (e.g., carpet and light fixtures) that will immediately catch a buyers eye…and not in a good way!
Repurposing space from something that might have worked for you – such as using a dining room space as an office – to what will work and appeal to buyers.
Spotlight the best features of a room, enhancing the visible space while downplaying any flaws.
Re-arranging or supplementing existing furniture and decor to make your house appear up-to-date, on-trend, and to mirror the lifestyle of prospects.
And yes. de-cluttering and de-personalizing items to create a broad appeal that opens the imagination
What Do Home Stagers Do? A Brief Note On What Home Staging Isn't
Every house is different, and home staging involves a personal consultation and strategy development for every home. Home stagers do not simply provide general redecorating advice, or recommend you paint a room or make a change for the sake of doing so. Recommendations for adjusting furniture, fixtures, colors, or space are tailored specifically for your property, knowing what will work best with the resources you have available. Home staging is not renovation – it is a marketing tactic that helps you to take your home from being a personalized, lived in asset to an attraction, the version of this house that you want your buyers to imagine when they step in for the first time.
The Monetary Benefits
The goal of a skilled stager is to help you make more money on your property sale, not recommend costly improvements that will waste your time and resources. When we're making determinations about what to do, and whether that couch or TV should stay and where it should go, a keen focus is placed on your potential buyers. Our mind is always thinking about what we can do to truly make your property the best looking one on the block, giving you the competitive advantage over other home sellers. At the end of the day, we want to help you gain a noticeable increase in the final sale price – sometimes as much as 10%!
Thus, the next time a friend or colleague looking to sell their property asks, "what do home stagers do?" you can confidently answer: a lot more than just cleaning and redecorating!