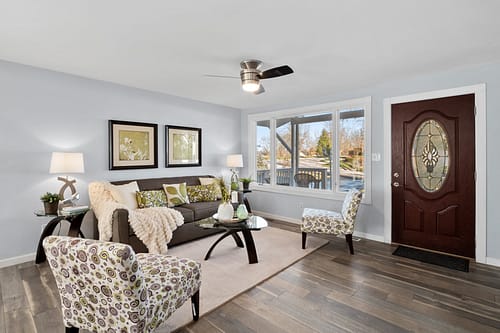 A combination of historically low interest rates, affordable median housing costs, low inventory, and lots of buyers has made St. Louis and its surrounding counties sizzling in terms of real estate. In many instances this means a fast sale for the sellers, however, experts still recommend professional home staging, even in a hot housing market.
What does staging add in a market with many buyers? The key is leverage. If you want to attract multiple offers on your property right after listing it, staging is probably the number one way to make that happen. In a fast moving market, buyers need to move quickly and are driven by first impressions and emotions. There is no better way to make someone fall in love with your house than to have it professionally staged. Giving it a "wow" factor will distinguish it from the rest of the pack and give it an even better advantage over any other homes that might go on the market at the same time. This can help drive FOMO (fear of missing out), which can be a real factor in getting higher than normal bids from excitable buyers.
Realtors and Staging Professionals: a Winning Combination for a Hot Housing Market
Just ask Aaron Franke, a realtor and developer in St. Charles County.  In December, Franke's company flipped a four-bedroom, 1979 ranch home. Similar homes in the same zip code had been listed and sold in recent months, but none as quickly or for so much over asking price as Franke's.  He credits the staging work provided by Staging That Sells.
"We put in some great updates to this house, but it was the staging that really brought it to life. High quality, professional home staging highlights a home's best features and helps families picture themselves living there," said Franke. "It really was love at first sight for the buyers. They walked in, saw a beautifully appointed home, and made an over-asking price offer just FIVE HOURS after we listed it."
While professional staging is an absolute must for older homes that often come with unique layouts and small rooms, Adam Frierdich, a custom home builder in Columbia, Illinois, is a firm believer that good home staging is beneficial for new construction homes, as well.  Frierdich Construction is well known throughout St. Clair and Monroe Counties for its high quality homes. But when one of his new construction homes wasn't moving, in January he sought a professional staging solution to amplify buyer interest.
"The difference was stunning. The staging not only brought the house to life, but the furnishings, art, and décor used by Staging That Sells made it appear more luxurious than just pictures of empty rooms did," said Frierdich. "
He had a full-price offer just days after it was staged.
Forbes magazine reports that a staged home will sell for 17 percent more on average than a non-staged home, and that statistically they sell 87 percent faster than non-staged homes. These kinds of results with home staging aren't limited only to the St. Louis market – they are true wherever you go!
"All of my 2020 listings that were staged by Staging That Sells sold over listing price or with multiple offers," said Leslie Owens, a realtor with Laura McCarthy Real Estate and a 7-time winner for the Five Star Best in Client Satisfaction Award. She went on to add:
"I recommend that all my sellers have their properties professionally staged. Vacant or occupied, it helps show the homes in the best possible light and provides a high return on investment."
If you want to reap the best possible benefits in a hot housing market, a professional staging consultation goes a long way to making your property shine among the rest in your area.